Tailored iPSC-based assays
Assess compounds' efficacy with reliable assays and capitalize in the selection of relevant compounds earlier
Predictive. Efficient. And designed
for better decisions.
We accomplish your project's ambitions by developing tailored assays with physiologically relevant human models that allow predictive high-throughput screening of a compound's efficacy, based on functional and phenotypic changes.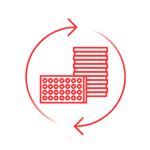 High reproducibility and sensitivity
Consistent models
manufactured at scale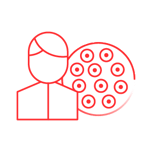 Translational readouts
Evaluate clinically relevant
cellular functions
Confident decision-making
Select compounds with high
probability of clinical success
Ncardia Assays
Our scientific team is highly experienced in developing and optimizing a wide range of custom assays for efficacy evaluation at high-throughput based on the most clinically relevant readouts for your project.
Robust efficacy
high-throughput screenings
As more and more drug discovery innovators look to capitalize on the unique value only iPSCs can deliver, they look to Ncardia as the uniquely qualified collaborator to join them on their all-important journeys. We're ready to help make your next step the very best it can be. So let's start with a conversation – about your vision, goals and expectations for your drug discovery projects.
Laura, Neuroscientist
Screening expert