A review of drug discovery and development progression for Parkinson's disease, focusing on promising candidates identified utilizing iPSC technology.
After Alzheimer's disease, Parkinson's disease is the second most common neurodegenerative disease, affecting more than 10 million people worldwide1. It causes unintended movements, stiffness and difficulty with balance and coordination. Parkinson's disease is characterized by abnormal aggregation and accumulation of α-synuclein protein that leads to the progressive loss of dopaminergic neurons in the substantia nigra2. Most cases are sporadic, but ~7% of patients have monogenic forms of the disease3.
Available treatment options are mainly dopamine repleting, which was discovered 55 years ago and increases quality of life and life expectancy4. It wasn't until 2020 that the first non-dopaminergic medication, istradefylline, was approved by the FDA. This drug improves motor outcomes and increases the duration of time without tremor5. However, none of these therapeutics reverse disease progression, indicating the need to identify new targets that can really change the course of the disease.
Human iPSC-derived models that faithfully recapitulate the disease phenotype can be of great advantage to improve target identification. As an example, in a study with an iPSC-derived model of Parkinson's disease, 1165 FDA approved compounds were evaluated to rescue mitochondrial toxicity and neuronal cell death phenotypes. Examination of hit compounds revealed benidipine, a T-type calcium channel inhibitor, as a new effective lead candidate6. An independent study found flunarizine, another T-type calcium inhibitor, as a suppressor of mitophagy abnormalities in a similar iPSC-based disease model7. Altogether, iPSC technology helped identify two lead candidates and the regulation of intracellular calcium levels as a new therapeutic target to suppress Parkinson's disease progression.
Furthermore, iPSC-dopaminergic neurons derived from patients with monogenic forms of Parkinson's disease have helped identify new disease-associated phenotypes, such as compromised neurite outgrowth, reduced neurite complexity or axonal degeneration8. These morphological alterations were used to evaluate the efficacy of compounds in rescuing those pathological features. Interestingly, an α-synuclein-inhibiting compound that has reached Phase II clinical trials successfully restored neurite length and rescued axonal pathology during preclinical testing9.
Therapeutic developers are now focusing on the development of gene therapies to lower the expression of genes associated with Parkinson's disease onset, such as SNCA. iPSC technology is also a relevant testing platform for these therapies. In fact, a study has already shown effective reduction of a-synuclein levels in patient-derived dopaminergic neurons after exposure to a SNCA-specific antisense oligonucleotide10. These observations will help in the development of new therapies for patients with sporadic or familial Parkinson's disease.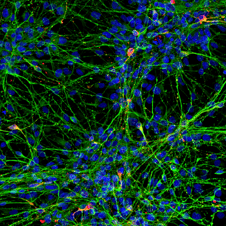 iPSC-derived neurons that recapitulate the typical pathological features of Parkinson's disease provide an exciting system for disease modeling, which can be utilized for the investigation of disease pathogenesis and to provide specific and valuable readouts for drug discovery. Ncardia recently developed a disease model, using a co-culture of iPSC-derived cortical neurons and astrocytes, to enable assessment of alpha-synuclein pre-formed fibril-induced toxicity. In a later stage, this disease model was used for phenotype rescue upon compound treatment. Learn more about this disease model in our case study.

References
[1] Han C, Chaineau M, Chen CXQ, Beitel LK, Durcan TM. Open science meets stem cells: A new drug discovery approach for neurodegenerative disorders.
Front Neurosci. 2018;12(FEB):47. doi:10.3389/FNINS.2018.00047/BIBTEX.
[2] Gómez-Benito M, Granado N, García-Sanz P, Michel A, Dumoulin M, Moratalla R. Modeling Parkinson's Disease With the Alpha-Synuclein Protein. Front Pharmacol. 2020;11:1. doi:10.3389/FPHAR.2020.00356
[3] Pasteuning-Vuhman S, de Jongh R, Timmers A, Pasterkamp RJ. Towards Advanced iPSC-based Drug Development for Neurodegenerative Disease. Trends Mol Med. 2021;27(3):263-279. doi:10.1016/J.MOLMED.2020.09.013
[4] Ntetsika T, Papathoma PE, Markaki I. Novel targeted therapies for Parkinson's disease. Mol Med 2021 271. 2021;27(1):1-20. doi:10.1186/S10020-021-00279-2
[5] Paton DM. Istradefylline: adenosine A2A receptor antagonist to reduce "OFF" time in Parkinson's disease. Drugs Today (Barc). 2020;56(2):125-134. doi:10.1358/DOT.2020.56.2.3098156
[6] Tabata Y, Imaizumi Y, Sugawara M, et al. T-type Calcium Channels Determine the Vulnerability of Dopaminergic Neurons to Mitochondrial Stress in Familial Parkinson Disease. Stem Cell Reports. 2018;11(5):1171-1184. doi:10.1016/J.STEMCR.2018.09.006
[7] Yamaguchi A, Ishikawa K ichi, Inoshita T, et al. Identifying Therapeutic Agents for Amelioration of Mitochondrial Clearance Disorder in Neurons of Familial Parkinson Disease. Stem Cell Reports. 2020;14(6):1060-1075. doi:10.1016/J.STEMCR.2020.04.011
[8] Kouroupi G, Antoniou N, Prodromidou K, Taoufik E, Matsas R. Patient-Derived Induced Pluripotent Stem Cell-Based Models in Parkinson's Disease for Drug Identification. Int J Mol Sci. 2020;21(19):1-26. doi:10.3390/
IJMS2119711
[9] Phase 1 Study of NPT200-11 in Healthy Subjects - Full Text View - ClinicalTrials.gov. Accessed August 8, 2022. https://clinicaltrials.gov/ct2/show/NCT02606682?term=NPT200-11&draw=2&rank=1
[10] Fukusumi H, Togo K, Sumida M, et al. Alpha-synuclein dynamics in induced pluripotent stem cell-derived dopaminergic neurons from a Parkinson's disease patient (PARK4) with SNCA triplication. FEBS Open Bio. 2021;11(2):354-366. doi:10.1002/2211-5463.13060