Harnessing the power of data science to improve iPSC process development and manufacturing
Expert Profile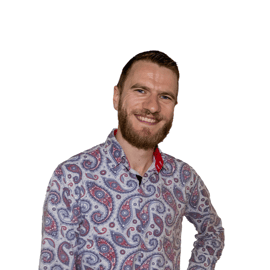 Jeroen obtained his PhD at the University of Leiden where he developed several tools and methods for modeling cardiovascular disease using human induced pluripotent stem cells (iPSCs). During his career he has gained extensive experience in 3D-tissues engineering, complex image analysis, disease modeling, and Organ-on-a-chip technology. His passion for large datasets, coding, and data visualization moved him to join Ncardia as a data scientist to support the cell development activities by constructing complex data algorithms and streamlining data acquisition, analysis, and reporting.
Insights
Manufacturing functional iPSC-derived cells with consistent quality is a crucial and difficult step to successfully integrate iPSC technology in drug discovery and other medical applications. To do so, Ncardia has established standard and scalable processes for multiple cell types using its proprietary human iPSC lines. Moreover, to meet clients' goals, Ncardia often works with external iPSC lines, which requires flexibility to adapt or newly develop manufacturing processes. In this interview, Jeroen elaborates on the power of data science and how it can be harnessed to improve iPSC process development and manufacturing.
"iPSC differentiation is a complex biological process, where small deviations can have a huge impact on the yield and characteristics of the final product. Through extensive in-process data collection and by using sophisticated data science approaches, we gain a much deeper understanding of those variables, and point out the ones that are the most relevant to manufacturing yield and quality. Gathering all this knowledge enables us to further optimize iPSC manufacturing and increase success rates when working with external iPSC lines."
According to Jeroen, the large expertise built at Ncardia provided him the perfect starting material to leverage the full power of data science. As an example, the knowledge obtained from more than 300 cardiomyocyte differentiation runs, from various iPSC lines, have generated a huge database with key hidden information waiting to be deciphered.
"Human brains are limited to thinking in 3 dimensions, but a computer can do much more than that! For instance, when analyzing bioreactor's data we can apply Principal Component Analysis, supervised machine learning, and other explorative data algorithms to simplify multidimensional data. As a result, we reach a deeper level of understanding, and can create a more complete picture of cells' behavior and the variables influencing it along each differentiation day. Not only that, but by using unsupervised data clustering we can understand how a run compares to all our historical data, which facilitates building robust processes for any iPSC line"
The impact of this work is immeasurable. It empowers the manufacturing team by expediting data-driven decision making, improving success rates and shortening timelines. Additionally, the technologies developed for one process can be readily applied to others. Hence, not only the differentiation process for cardiac cells, but other complex lineages such as lung, liver and kidney cells are also reaping the benefits of this approach. As explained by Jeroen, these provides the Ncardia team with the necessary tools to venture into the field of regenerative medicine and tissue engineering.
"It is an advantage that the entire Ncardia team is located in one facility as it allows me to easily support manufacturing and discovery projects on a daily basis. By utilizing complex algorithms, I am able to accelerate data analysis while reducing the risk of human error. Automating analysis through coding is also a time-saving process that requires minimal supervision and effort. I take pride in this work as it not only decreases workload of scientists but also improves quality and ensures timely delivery to our clients."
Are you wondering how iPSC technology could advance your therapeutic development programs? Contact our experts
---
---
---